Zorb & Bubble Football UK is an exciting day out for all
Bubble Boys offers the best Bubble Football packages in the UK, with local venue arrangements and great extras on offer.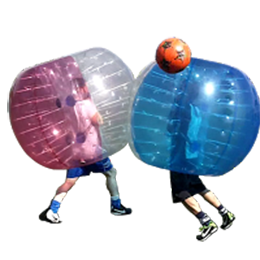 We are a London-based startup that has burst onto the Bubble Football scene to offer affordable and bespoke packages on the game, which are venue-inclusive.
What Is Bubble Football?
Bubble Football, or zorb football, is combining the best aspects of two completely different things to create a truly unique experience. The well-loved sport of football being played in giant bubbles is what creates the term bubble football - an interesting twist for you to try and play in, it becomes an incredibly hilarious activity to try out with all types of people: whether it be friends, family or even complete strangers.
O U R    V I S I O N
To be the house name for Bubble Football. We want to make the sport exciting and affordable, for all office socials, parties and general events.
ALL OVER THE UK
Since starting the business whilst at University, the three Bubble Boys have transformed the start-up into a thriving business. They've been through hilarious office socials, wild stag-do's and great get-togethers all over the UK since beginning their adventure.
Milestones
Our hand-picked moments to treasure from the Bubble Boys venture.
May, 2013
Bubble Boys found the company whilst at University, after identifying a gap in the market and acquiring investment to move forward.
June, 2013
The company's first website is launched as they gain local attention.
October, 2013
Established London headquarters.
October, 2014
The business wins a 'Business of the Year' award for 2014 after being a highly successful start-up in their area.
May, 2016
The business gets an all-new look! A fresh website pushes the business further forward for bubble football.
November, 2017
Achieved 10,000th bubble football event